TAPE FACE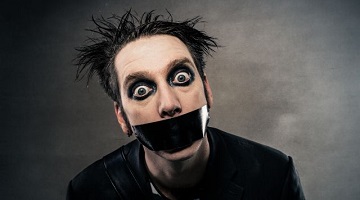 Saturday, November 20, 2021
8:00pm
(Originally Saturday, March 27, 2021)
Mime with noise, stand-up with no talking, drama with no acting. Viral sensation Tape Face has to be seen to be believed.
Tape Face, real name Sam Wills of New Zealand, gained national attention during his run in 2016 on America's Got Talent as a season 11 finalist and again in 2019 on America's Got Talent: The Champions. He has headlined two limited engagements at Bugsy's Cabaret at Flamingo Las Vegas in 2017 and now a multi-year residency at Harrah's Las Vegas. He uses no dialogue in his performance, stretching black electrical tape across his mouth. His show is a series of comedy bits and sleight-of-hand magic acts, often with audience members pulled to the stage and, has been a top draw on his world and U.S. tours.
This truly is comedy made for everyone, guests must be prepared to get involved and become heroes on stage, as they step inside a comedy world unlike any other. Visually stunning, heart-stopping, and hilarious, you'll laugh, you'll cry, and when it's all over you'll be completely speechless. Just like Tape Face.
NO REFUNDS OR EXCHANGES
NO SMOKING
MUST STAY IN ASSIGNED SECTION
21 AND OVER SHOW
VIP PACKAGES AVAILABLE (Limited availability):

Price per package: $125 + fees
Package includes:
One (1) Premium Seat Location
Meet & Greet and Photo with Tape Face
One (1) Tape Face Merch Package Exclusive to VIP Purchasers
One (1) Commemorative VIP Laminate
VIP Package sales end 5 days prior to performance.
Maximum of 4 tickets per order.
Legal language for packages:
All package elements will be rendered invalid if resold. Name changes will be issued at the sole discretion of 23/7 Global. VIP instructions will be sent via email no later than three days (3) prior to the concert. If you do not receive this email three days (3) prior please email info@237global.com. All packages and contents are non-transferable; no refunds or exchanges; all sales are final. All VIP package items and experiences are subject to change. Please note that the information provided at the time of purchase (e-mail and mailing address) is the same information that will be utilized for individual contact requirements where applicable. 23/7 Global, the artist, tour, promoter, ticketing company, venue or any other affiliated parties are not responsible for outdated or inaccurate information provided by the consumer at the time of purchase. If you have any questions regarding your VIP package elements, or have not received you package information within three days (3) of the concert date, please email info@237global.com.