THE MAVERICKS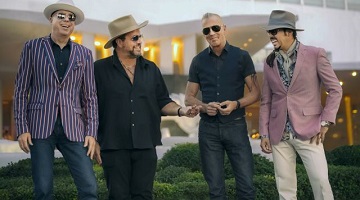 Friday, April 22, 2022
8:00pm
(Originally Saturday, July 17, 2020 and May 22, 2021)
The Mavericks – masters of country-Latin rock'n'roll, born in the rich cultural mix of Miami then tempered in Nashville's country hothouse – rode high in the country and rock charts of the 1990s with culture-crossing hits like "What A Crying Shame" and "All You Ever Do Is Bring Me Down." Then, they conquered Europe with the titanic feel-good party classic "Dance The Night Away," a 400,000-seller in the UK. Yet nothing lasts forever, and in 2004 The Mavericks went on hiatus while frontman, Raul Malo, explored new musical avenues.
But since a reunion in 2012, the band has re-established itself as one of the most exciting and joyfully entertaining acts on the touring and festival circuit across the planet. It's a reputation based on their irrepressible mix of country, Tex-Mex, rockabilly, and Latino sounds plus, a riotously entertaining, world-renowned live show.
The Mavericks are true American originals, heirs to the great song-writing traditions of Cuba and Miami, and of Nashville, San Antonio, and Memphis. Now, on their 30th anniversary as a band, they're back to remind the world why they're so good.
MUST STAY IN ASSIGNED SECTION
NO REFUNDS OR EXCHANGES
NO VIDEO RECORDING
NO SMOKING
MUST BE 21 OR OLDER
SUPPORT ACTS SUBJECT TO CHANGE