Ashley McBryde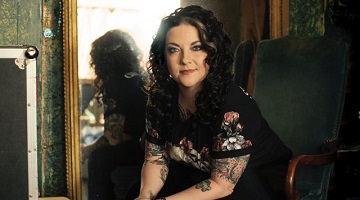 Saturday December 11, 2021
8:00pm
(Originally Friday, April 23, 2021)
With Special Guest: Adam Hambrick
"I hear the crowd, I look around, and I can't find one empty chair. Not bad for a girl going nowhere" sings Ashley McBryde on Girl Goin' Nowhere, the seminal title track from her GRAMMY-nominated major label debut LP. They're words built from experience: over the course of her life, growing up in Arkansas, McBryde's been finding her own way to fill those seats and sway those hearts since the very first time her teacher told her that her dreams of writing songs in Nashville would never see the light of day. Every time she was brought down, she persevered; trusting her timeless tone and keen, unwavering eye for the truth. It paid off. In April 2017, Eric Church brought her on stage and called her a "whiskey-drinking badass," confessing that he's a massive fan. The rest of the world is quickly catching on, too.
Dubbed by NPR as "country music's most exciting new country voice" and Rolling Stone citing she's "an Arkansas red-clay badass, with the swagger of Hank Jr. and the songwriting of Miranda Lambert," McBryde fearlessly lays it all on the line, and it's that honest all-in approach that has led to The New York Times critic Jon Caramanica to opine that "the still beauty in her singing is impressive, but her easeful storytelling feels practically radical." McBryde's album showcases an artistic vision that proves her to be one of the genre's keenest working storytellers, bringing unwavering honesty back into a pop-preoccupied genre. Pulling tales from every corner of her human experience – a happenstance love on "A Little Dive Bar In Dahlonega," a neighbor with a heavy past on "Livin' Next to LeRoy," a girl with an impossibly possible dream on "Girl Goin' Nowhere – McBryde sings with fire and fury, laughing and swigging that brown stuff along the way. And she doesn't do it in glitter and sequins, either, like a good lady of Music Row. McBryde wears her boots and crack her jokes: with McBryde, what you see is what you get, and what you get is what you see.
It's that authenticity bleeding through every lyric, riff and song that had McBryde's name on a number of "Best of 2018" lists, from The New York Times, Paste and Rolling Stone to Stereogum, UPROXXand Variety. It's those lyrics that hit the heart and gut, like "here's to the breakups that didn't break us," that scored her opening slots for Chris Stapleton, Miranda Lambert and Eric Church.
McBryde was raised in Mammoth Spring, Arkansas, taking to music at the age when most kids were running wild in the backyard, dressing dolls or playing with trains. At three, she'd secretly pluck her father's guitar like an upright bass, and after about the 17th time being caught, her father bought her a guitar of her own. When she was twelve, she played her parents and grandparents her very first composition.
It was at Arkansas State when, while a member of the marching band, McBryde finally started sharing her voice with others – first at karaoke parties, then in a band, and then in Memphis where she'd play a mix of cover and original songs while still commuting from college. When McBryde finally moved to Nashville in 2007, she settled with a friend at an apartment in a building that housed storage units – not the most glamorous of homes, but enough of a place to crash in between a healthy dose of dive bars, biker hangouts, and colorful joints where she fought to have her songs heard.
Her first EP, the self-released 2016 Jalopies and Expensive Guitars was just a taste of what McBryde could do, and, on her full-length debut, she melds her songwriting chops with the vision of producer Jay Joyce, peppering her tales with a touch of guitar-driven rock fury – but offering plenty of room for her emotive, vulnerable twang to move softly through songs like "Girl Goin' Nowhere," which was written the morning that Guy Clark passed away.
She's been described as a combination of Bonnie Raitt, Lzzy Hale and Loretta Lynn, and that's not wrong: McBryde isn't afraid to tell the truth, get raw and real and use the spirits of country, folk and rock when it serves her greater purpose. And McBryde indeed played "Girl Goin' Nowhere" at her Opry debut, and still performs it on stage to crowds that now sing along. She gets emotional from time to time, remembering the days when she was working at a guitar shop or as a security guard or selling barbecue, never letting that vision go – a vision she shares on her debut LP that will help remind Nashville what country music is about. And those are the stories that shake us, make us and tell us a little more about what it's like to be human.
And that girl goin' nowhere, from a little town in Arkansas? She's a whiskey-drinking badass, going everywhere. Just watch.
MUST STAY IN ASSIGNED SECTION
NO REFUNDS OR EXCHANGES
NO VIDEO RECORDING
NO SMOKING
MUST BE 21 OR OLDER
SUPPORT ACT SUBJECT TO CHANGE