Last In Line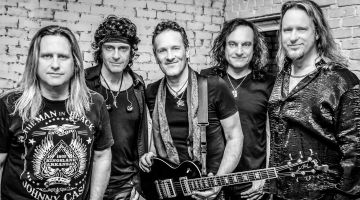 Friday, April 20, 2018
8:00pm
With Special Guests: Lexi Parr and The Rubyblonde Band
Last In Line, the band, takes its name from the second Dio album released in 1984. Vinny Appice, Jimmy Bain and Vivian Campbell were Ronnie Dio's co-conspirators and co-writers on the "Holy Diver", "Last In Line" and "Sacred Heart" albums – these records have gone on to become part of rock history.
During that first jam it was apparent that the chemistry of the original band was very much intact, even after a 27 year hiatus. The excitement generated by that rediscovery led to a second session, where this time they called in acclaimed vocalist Andrew Freeman. Hearing Andrew's interpretations of the original Dio songs was a revelation and the inspiration to move forward as a band. Over the ensuing years a handful of local LA shows led to a handful of overseas shows in the U.K. and Japan, and eventually to an offer from Frontiers to record a new album of original material.
During the course of 2014, the band wrote and recorded 12 new songs and chose longtime friend Jeff Pilson as producer. Jeff very much captured the organic crunch of the band and the very best in Andrew's voice and delivery.
Last In Line's debut album, "Heavy Crown" was released in February 2016, hitting number 1 on the Billboard Heat-Seekers Chart, with the singles "Devil In Me" and "Starmaker" leading the charge.
2017-2018 brings Last in Line into the studio to record "Last in Line II" an even stronger mix of original songs, again produced by Jeff Pilson. We are currently securing dates for 2018-2019 in support of the upcoming release on Frontier Records through our agency, ARM Entertainment.
MUST STAY IN ASSIGNED SECTION
NO REFUNDS OR EXCHANGES
NO VIDEO RECORDING
NO SMOKING
MUST BE 21 OR OLDER