Warrant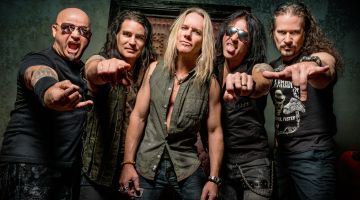 9pm, Saturday, August 4th, 2018
Under their belt, Warrant has eight million records sold worldwide, two Top Ten Billboard albums, five Top 40 Billboard hits, five #1 MTV videos…the list goes on and on. Now, six years after the release of "Rockaholic," the album that relaunched the band as a force to be reckoned with in the 21st Century, Warrant returned with another release of muscular hard rock, aptly titled "Louder Harder Faster."
Warrant was one of the most popular and successful rock bands to emerge out of Hollywood, CA in the late 80's and early 90's. The band was formed in the early 80's by Erik Turner and Jerry Dixon.
In 1989, Warrant released their classic debut "Dirty Rotten Filthy Stinking Rich," which immediately entered the charts and launched the hit singles "Down Boys," "Sometimes She Cries," and "Heaven," which climbed up to number two on the US charts. With extensive touring for DRFSR, sales exceeded 2 million records in the U.S.
In the summer of 1990, their second album "Cherry Pie" was released. The album turned out to be an even bigger success, featuring the Top Ten hits "I Saw Red," "Uncle Toms Cabin," and the rock anthem "Cherry Pie," which received massive airplay on MTV and continues to get millions of plays on streaming services and YouTube to this very day.
With a current line-up featuring original members, Erik Turner, Jerry Dixon, Joey Allen, and Steven Sweet along with singer Robert Mason (Lynch Mob, Cry of Love), Warrant is now stronger than ever. Mason's vocals remain a breath of fresh air and his swagger on the songs gives new life and a bright future to the band. With production handled by Foreigner and ex-Dokken bass player Jeff Pilson (Last In Line, Starship, Adler's Appetite, etc.), Warrant is sounding tighter and playing better than ever before.
NO REFUNDS OR EXHANGES
NO SMOKING
21 AND OVER SHOW
MUST STAY IN ASSIGNED SECTION