Here Come The Mummies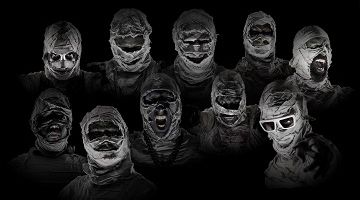 8pm, Friday, April 27th, 2018
Here Come the Mummies is an eight-piece funk-rock band of 5000-year-old Egyptian Mummies with a one-track mind. Since their discovery HCTM has been support for P-Funk, Al Green, Mavis Staples, KC and the Sunshine Band, and Cheap Trick; rocked Super Bowl Village; become a regular on The Bob and Tom Show; played massive festivals like Summer Camp, Common Ground, Voodoo Fest, Musikfest, Suwannee Hulaween, and Riverbend.
Featuring an eclectic mixture of instruments, including the saxophone, bass, trumpet and guitar, the group's mysterious personas and intimate live performance provide audience members with a performance they won't soon forget. Some say they were cursed after deflowering a great Pharaoh's daughter. Others claim they are reincarnated Grammy-winning studio musicians. Regardless, HCTM's mysterious personas, cunning song-craft, and unrelenting live show will bend your brain, and melt your face.
Their current set includes old favorites, as well as new material from their two 2016 full-length studio records, "Underground," and "A Blessing and a Curse."
With Special Guest: Boogie Monster, performing after Here Come The Mummies in the upper bar area.
MUST STAY IN ASSIGNED SECTION
NO REFUNDS OR EXCHANGES
NO VIDEO RECORDING
NO SMOKING
MUST BE 21 AND OLDER